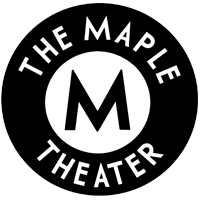 Secret Cinema Audience Selection
WHAT IS SECRET CINEMA?
Secret Cinema is The Maple's classic film series with a twist: you won't know what you're watching until the lights go down!
Films are curated and presented by the local film professors, critics, industry professionals and even cinephiles like you!
All Secret Cinema screenings are followed by a Q&A with the presenter to provide historical and cultural context and analysis.
Tickets are just $8 for General Admission, $13 for Club Seating
Curious what we have shown in the past? See all the details here!
OLD HOLLYWOOD
Every first Thursday of the month is Secret Cinema: Old Hollywood
Any film released prior to 1967 is on the table
NEW HOLLYWOOD
Every third Thursday of the month is Secret Cinema: New Hollywood
Any film released from 1967 to the present is fair game