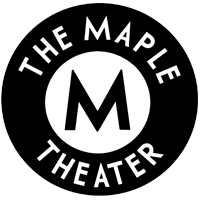 THE MAPLE CLUB
NEW & IMPROVED -THE MAPLE CLUB ELITE - $15 per year

• 
Every $1 spent on refreshments 
on Friday, Saturday and Sunday 
earns 1 point towards concession and box office rewards
• 
Every $1 spent on 
food/
refreshments on Monday, Tuesday, Wednesday and Thursday earns 3 points toward concession and box office rewards
• 
Attend a movie on Monday and save $2 off regular ticket price.
• 
Upgraded* size of popcorn and drinks on every visit
• 
Receive The Maple Newsletter in your email every week as well as information regarding special screenings and events
• 
Sign up at the theater to receive your membership card
and receive ONE FREE POPCORN during that visit.
(during non-enrollment period)
• 
TRANSFER YOUR CURRENT 
CLUB 
CARD TO ELITE
during enrollment period of August
 1
st
 –
September 30
th
, 2018
for only $10 – All current points and rewards will transfer and you will receive ONE FREE ADMISSION TICKET (up to a $12 value)
CLUB SEATING
• 
Upon arrival guests will be welcomed to extra-wide, luxurious seats at the rear of the auditoriums where waitstaff will take all service requests
• 
Complimentary popcorn is included with any other concessions, bar, or Great Lakes Coffee purchase
• 
Seat-side service will continue through the previews and all tabs will be settled as the previews end
• 
$5 charge per ticket for a
ll patrons except 
VIP members
VIP MEMBERSHIP FOR ONE OR TWO
• 
All admissions, popcorn, and soda are complimentary
• 
10% discount on all other purchases
• 
Access to Club Seating at no ch
arge for 1 year including compl
i
mentary items and seat-side service mentioned above
• 
Newly 
included – discounted access to specific* 
special events including Opera and Ballet. Complimentary tickets for some special events where contractually not prohibited.
• 
$300 for a single-person or $500 for a two-person membership.